Welcome to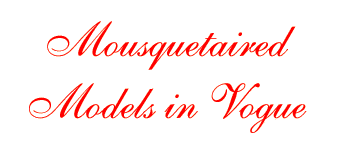 This site is dedicated to the fashion accessory that, more than any other over the past two centuries, has defined female style, elegance and sensuality: the mousquetaire or opera glove.
Up until the 1960s no lady would even contemplate being seen at any social gathering without a pair of formal evening gloves, but over the following twenty years the popularity of the kid leather opera glove declined dramatically before enjoying a brief resurgence during the economic excesses of the early 1980s. In more recent years, however, the world of fashion has seen the emergence of a new generation of fashion designers such as John Galliano who take inspiration from the couture of the 1950s, a decade when Dior and Givenchy reigned supreme and models and actresses like Audrey Hepburn and Grace Kelly defined the look of their time. As a result the mousquetaire may yet live again.
The images posted here represent the best photographs of models in long leather gloves featured in the fashion pages of British Vogue over the last 25 years. Only the most beautiful models in the finest opera gloves, evening gloves and other long leather gloves will be featured. The emphasis of this site is on quality, not quantity, and I'm sure you will not be disappointed.
Vive le mousquetaire!
The Glovemaster